The retail market has changed completely with the advent of online shopping. Websites like Amazon and eBay offer consumers cheaper alternatives to the goods. The added bonus is having the goods delivered right to their door. Initially, this seems like a great thing for consumers. Especially in the run-up to Christmas, what downside can there be to saving money?
Cheap and Not Cheerful
It's so crucial to be educated when it comes to what chemicals we put in and on our bodies. Part of that means shopping with a company or seller that you can trust. There are heaps and heaps of horror stories out there of beauty care gone wrong.
Some things aren't always as they seem. Merarie Day, a woman selling cosmetics on eBay, presented her products as remedies for almost everything imaginable. One of these products was a herbal tea remedy. It promised to cure bad breath, bronchitis, asthma, tuberculosis, kidney stones and more. What's even more astounding, was that the tea claimed to be a remedy for constipation AND diarrhoea!
Things got even worse as she offered a skin lightener containing hydroquinone. Hydroquinone is banned in cosmetics in the EU due to causing liver and nervous system damage. It also increases the likelihood of skin cancer from UV rays. Day also sold products containing mercury which can cause liver, kidney and brain damage.
Luckily, these products have been seized and Day has been ordered to pay over £30,000 or faces 18 months in prison. A victory in the end, but that doesn't help those unlucky customers who bought into the false claims of her products and the allure of cost-effective beauty.
It's All About Where You Buy, Not What You Buy
It's not just eBay where you're at risk. Amazon is a monstrous online entity these days, recently reporting $2.9 billion in profit in a single quarter. eBay has a reputation as a place where you often get what you pay for, but very few people would expect Amazon to be victim to the same sorts of dangers. It's easy to forget that Amazon is just like eBay in many ways. Users can make accounts and online shops on the website, so they can sell their products directly to other people online.
Over 50 NGOs, including the Mercury Policy Project, have sent an open letter to both Amazon and eBay, asking these sites to help in the prevention of these cosmetics being sold. Merarie Day has been punished for her role in supplying toxic goods, but what about the fact she was able to in the first place? According to the Environmental Working Group, "The products, purchased and tested by the Mercury Policy Project, in some cases contained as much as 30,000 parts per million, or ppm, of mercury – an astounding 30,000 times the legal limit of 1 ppm set by the Food and Drug Administration." The letter is very clear: "It is past time for Amazon to stop pretending it is not responsible for toxic trade in illegal cosmetics on its website". This just shows how easy it is for these dangerous products to enter the marketplace – and our bodies!
Knowing is Half the Battle
It's stories like this that teach us the importance of knowing what's in the products we use. It's all well and good checking the label of a product to see what it contains, but what do you do when you know that there are labels out there promising to cure all issues but secretly containing harmful chemicals? What do you do when you can't even trust the label?
When it comes to your skin and your health, there shouldn't be any half measures or shortcuts. It may save you a few quid now to go with the cheaper options, but is the risk of brain damage or skin cancer worth a few quid saved?
This is why shopping with a premium brand like LCN offers you peace of mind. All LCN products are manufactured in accordance with UK and EC cosmetic directives. This means that when you buy with LCN, you know that you are safe from objectively harmful chemicals like mercury.
Don't Just Mask the Issue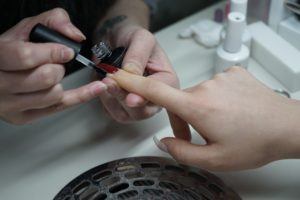 It's not just online shopping where we need to be careful with what products we use. Cheap nail salons, offering manicures for a fraction of the cost have been springing up all over the place. Droves of people have flocked to get that coveted salon experience but without the accompanying price tag. It used to be that a manicure was a luxury saved for those special occasions like weddings or dress up events. Recently, it has become an increasingly common practice. There are now over 17000 nail salons in the US, according to recent census data.
Many of these budget salons pay their workers less than minimum wage. Numerous health issues have been seen to arise due to the manicurists working with these toxic products. That's why you'll see these images of budget nail salon workers with face masks and gloves. The New York Times released an article about the chemicals in the products "being tied to cancer, miscarriages, lung diseases and other ailments". These horrible working conditions are a large part of where the discounted beauty comes from.
You Are What You Pay For
Being beautiful isn't just about looking beautiful, it's also about FEELING beautiful. When you're paying for a cheaper manicure, or buying the cheapest products you can find, there's often a hidden cost along with the price cut. That's why it's never a waste of money to make sure the beauty treatments and products you use are of the highest quality. Make sure you're buying items fully compliant with regulations and completely cruelty-free.